3D Print Settings for ABS on Ender 3
Even with a hand made enclosure around my Ender 3 I was still struggling to get ABS to 3D print well – particularly for avoiding warping at the print bed. Here are the settings that worked well for me, printed great and reduced warping significantly:
Normal quality parameters (0.2mm)
Hot hot hot print temperatures – 235 nozzle, 100 build plate
No print cooling – just turn it off
fairly normal, if not a little bit slow printing speed
small changes to extrusion and retraction distance
Draft Shield – enabled in experimental section of Cura 5.0 – THIS MAKES THE BIGGEST DIFFERENCE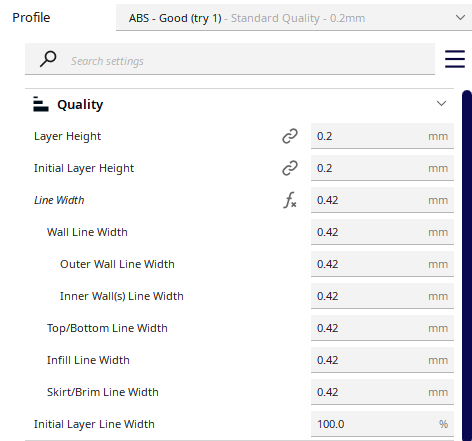 A few additional notes and thoughts, for those that are curious:
My Ender 3 is totally stock. I haven't upgraded anything yet (though I have capricorn tubing and an all metal hot end standing by for when something breaks)
I have the magnetic print bed – i have done several ABS prints at 100 degrees C bed temperature – bed has not failed yet
I do spray the bed with hair spray every half-dozen prints or so
I have a DIY wood enclosure. I'll write about it someday.
I open a window in the room and set a fan to pull the air out – thats how I deal with ABS fumes – they are NASTY. My enclosure has not venting.
That's it. So far so good – my ender 3 prints ABS and I am please with the results.